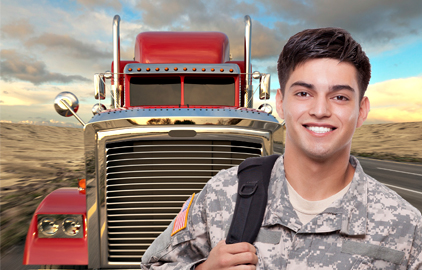 Job Placement And Careers
Truck driving is a highly stable industry, coast to coast. Our economy is built on it. There will always be a need for trucks and drivers to transport everything our nation needs. As a truck driver, not only will you be in demand, you will also earn a great paycheck!
Job Placement
You decide what road to take and we will help achieve your goal. Our job placement and career planning program is first-class. We'll help start the job application process while you're still in school so you can hit the road shortly after graduation. Plus, we offer unlimited job placement to all graduates!
Truck Driving Careers
OVER-THE-ROAD
– Transporting products via public highways throughout the United States Route: usually through 48 states
– Road time: often 3 – 4 weeks at a time
SOLO
– Solo driver opportunities
TEAM
– Two-driver opportunities (great for couples or teams who want to work and travel together!)
REGIONAL
– Hauling general freight within a few hundred miles of a specified area rather than throughout 48 states
– Route: No East coast runs
– Road time: often 2-3 weeks at a time
TRAINER
– Truck driver instructor opportunities
OWNER/OPERATOR
– Options for those who own and operate their own rig vs. leasing the rig or driving a rig from someone else
LOCAL
– Tends to keep the driver closer to home base than regional
– Route: Primarily Texas
– Road time: Drivers are often home nightly
CALL TODAY TO GET STARTED
Call 877-206-8344 to find out how soon you can get started.  One of our advisors will walk you through the process of obtaining your CDL and explain how we can help you seamlessly transition into the lucrative trucking industry.

asdf